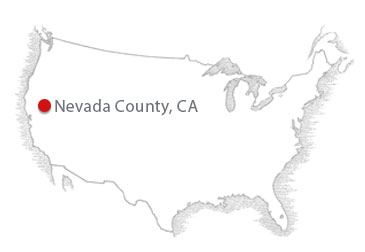 Nevada County  is located in the heart of the  Gold Country of California.  The quaint communities of Grass Valley, Nevada City, Penn Valley, and Rough and Ready reflect the spirit of the Gold Rush era, with their narrow streets and historic brick buildings.  You will find a pleasing mix of homes for sale from vintage Victorians, to contemporary homes with the latest features technology has to offer.
Named after the the mining town of Nevada City, Nevada County was created in 1851.  The Spanish word for Nevada is 'snow covered' or 'snowy', which reflects the snow capped mountains of the Sierra Nevada.
Because of the mining industry in Nevada County, there were several high tech events that may surprise you.  For example, the very first long-distance telephone in the world, connected French Corral with French Lake, a 58 mile distance.  It was built by the Ridge Telephone Company in 1877, and served the Milton Mining Company.  Another invention, the Pelton Wheel, was designed to power gold mines, and is still important today for hydro-electric generators.  Grass Valley and Nevada City were also some of  the first communities in California to have electric lights.  Founded in Grass Valley, the Grass Valley Group designed and manufactured video/broadcasting equipment used by virtually every TV station in the country.  Over a thousand Nevada County residents earn their livings in the field of software and hardware design and development, and there are over fifty high tech companies in the area. Even the arcade video game Pong, was created here.   Nevada County is sometimes referred to as the "Silicon Valley of the Sierras."
Nevada County California has so much to offer.  I know you will enjoy our beautiful surroundings, interesting people, rich history, cultural diversity, and easy life style.  Let me help you find your dream home here.  Call me today.