Nevada City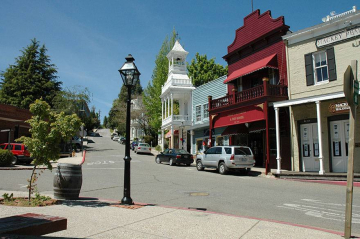 In Nevada City  you will find a wide variety of Real Estate options for sale.  Nevada City offers everything from quaint Victorians, to cabins in the woods to countryside estates.  You can find your dream home here.  Search the entire MLS for Nevada City Real Estate, right here, for free.
The Downtown area of Nevada City  is a national historic landmark with a wonderful array of gourmet eateries, boutiques, galleries, museums, and wine tastings.  This historic district  is listed on the National Register of Historic Places. During the Gold Rush of 1849, Nevada City was the most important gold mining town in the state.  Today, the charm of yesteryear is preserved and celebrated by the interesting mix of artists, musicians and professionals of all sorts who call Nevada City home.
Nevada City was once home to President Herbert Hoover. As a young man he lived in Nevada City and worked as a gold miner, before he went on to become President. Built in 1865,  The Nevada Theater is the oldest theater in California, and still offers entertainment today.  The Nevada Theater has hosted many famous folks such as Mark Twain, Emma Nevada, Jack London, Lotta Crabtree and Motley Crue.
Nestled in the foothills of the Gold Country, Nevada City is surrounded by natural beauty.  Within a short distance you can enjoy beautiful lakes and rivers. You can fish for German Brown Trout, bass, kokanee salmon or pan fish, depending on the season and area you choose. Boating, Kayaking and swimming can be enjoyed at local lakes and streams. There are hiking trails all over Nevada County.  Short hikes are found near Nevada City, others follow the South Yuba River, plus there are high country hikes in the Tahoe National Forest.  You will find great biking trails, picnic areas and spectacular vistas all throughout Nevada County.
Take a moment to search for Nevada City Real Estate, and I look forward to helping you find your dreams here.
Nevada City Homes For Sale

Sorry we are experiencing system issues. Please try again.